Victory Ships
Table of Contents
Victory Ships Directory
United States Victory Ships
SS American Victory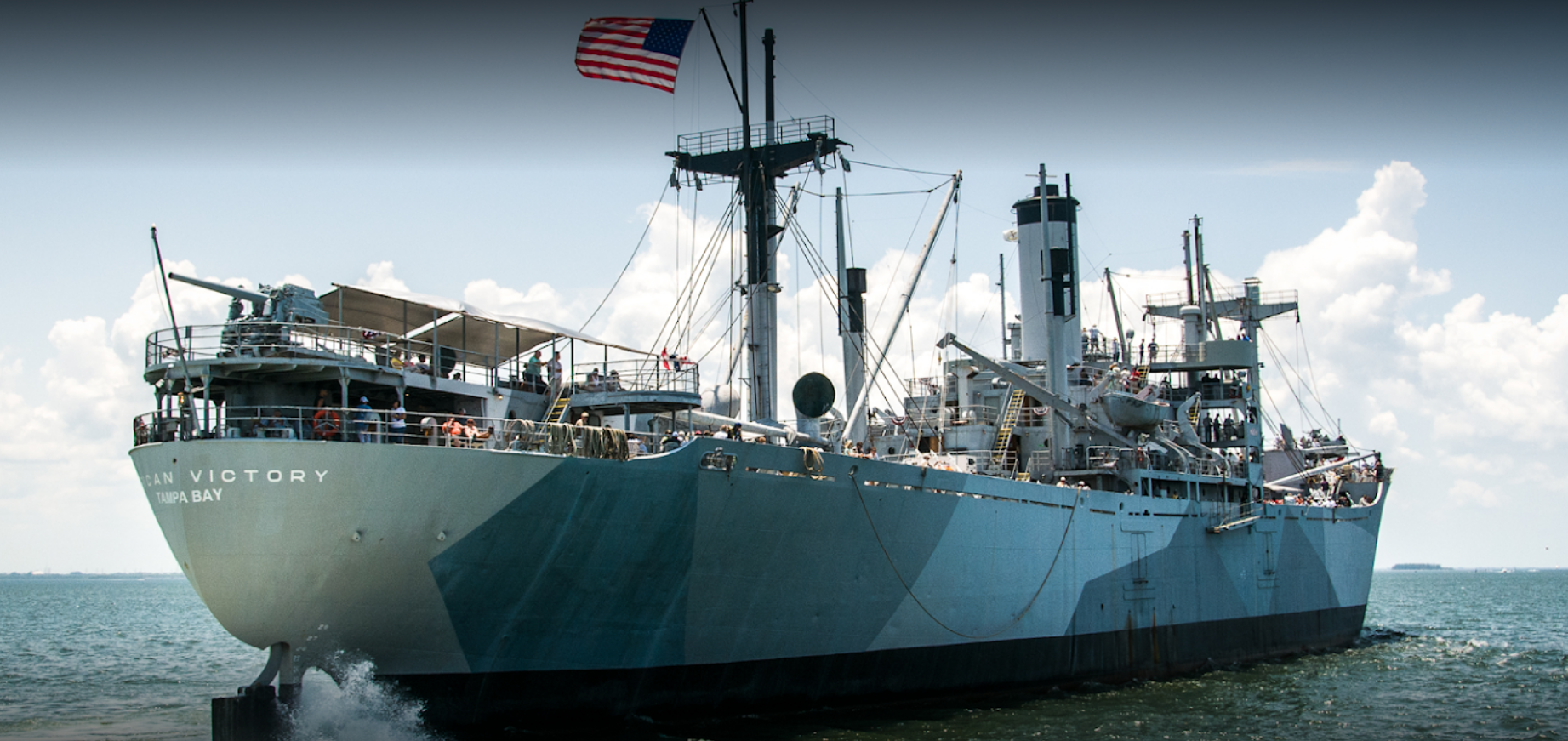 The SS American Victory ship is a victory ship that saw service in World War 2. Launched right at the end of the war in June of 1945, the SS American Victory saw only brief service in the Pacific Theater. American Victory ferried cargo to the Southeast Asian theater before the war came to a close. She would go on to serve in the Korean War, World War 2, and the Vietnam War before being placed in reserve.
The American Victory Ship & Museum in Tampa Florida has been taking care of her since 1999. As one of only 3 surviving Victory Ships, the SS American Victory is an amazing sight to see. According to the museum's website visitors "experience an unforgettable voyage of discovery and relive history by visiting cavernous three level cargo holds, radio and gyro rooms, hospital, galley, weaponry, steering stations, flying bridge, signaling equipment, wheelhouse, mess halls, engine room, crew cabins, lifeboats and cargo equipment, then gaze upon photographs, uniforms, medals, documents and naval equipment."
Aboard ship visitors will see original equipment such as her 3 in bow mounted deck gun, 5 inch stern gun and another 3 inch gun. The most amazing thing about this ship is her operational status. The SS American Victory has been a fully operational ship since 2003. Typically, the museum will go on two "Relive History Cruises" a year. There are only a few operating World War 2 ships in the world that visitors can actually ride on. If traveling from afar it is definitely worth scheduling your visit to make one of these rides. The museum keeps a very active social media following and definitely makes for a good follow. As usual, before traveling long distances we recommend checking the museums website for up to date hours.
SS Lane Victory
Are you looking for an unforgettable, historical experience that can transport you back in time? Look no further than a trip on the SS Lane Victory, located in San Pedro, California. Built nearly 75 years ago in 1945, this 455-foot cargo ship has served in both World War II and the Korean War, gaining recognition as one of the few remaining fully operational vessels from the World War II era.
The SS Lane Victory is now open to the public and is one of only 3 victory ship museums. This breathtaking vessel includes a variety of amenities and features to make your experience truly memorable. The knowledgeable onboard tour guides provide insight into the vessels past and present. From learning about its involvement in battles during World War II and Korea to listening to stories about the brave men who worked aboard it throughout its life, there are endless opportunities for education on board the SS Lane Victory.
This historic ship also offers a number of fun activities for visitors looking for entertainment. Take a self-guided tour around the ship's many decks or explore its galley full of artifacts from its days at war. Not only will you have access to some amazing sights as you explore what was once home to hundreds of sailors, but you will also find plenty of interactive elements such as battle stations where you can test your knowledge about guns and other weapons used by military personnel throughout history.
The SS Lane Victory is a unique educational opportunity offering a peek into our past like no other place on earth. Its crew members are proud to share their knowledge with all those willing to learn while they create an atmosphere full of fun and excitement – perfect for families seeking an exciting destination away from their normal routine! So if you're in search of something special, visit San Pedro today and set sail aboard this piece of American history at the SS Lane Victory!
SS Red Oak Victory
The SS Red Oak Victory is one of the more unique experiences to explore the history of our nation's naval past. Boasting a rich and varied history, this famous ex-WWII cargo ship has been restored to its original condition, allowing visitors to step back in time and experience life aboard a vessel that was once part of our nation's proudest fleet. With its fully equipped galley, sleeping quarters, and engine room, visitors can get an up close and personal look at what it was like to serve on such a grand vessel. The Red Oak Victory is one of only 3 victory ship museums in the United States.
For those who'd like to take their experience even further, there are many guided tours that can be taken around the ship. These tours will provide visitors with an in depth look at various areas of the SS Red Oak Victory, as well as stories about its past occupants, their extensive voyages, and its eventual decommissioning after World War II.
The SS Red Oak Victory also provides educational opportunities for those interested in learning more about naval history. There are classes available for both adults and children alike focusing on topics ranging from basic navigation skills to U.S. Naval strategy during WW2. Additionally, experts are always on hand to give lectures or answer questions about the history of this majestic vessel.
Finally, no tour would be complete without taking advantage of the stunning views offered by the SS Red Oak Victory's top decks. From here one can take in breathtaking views while learning more about one of America's most treasured vessels. So if you're looking for an exciting adventure that doubles as a fascinating lesson in history, then look no further than the SS Red Oak Victory!
CLOSE MAP