Helicopter Museums
Helicopter museums are dedicated to the preservation and celebration of the history and legacy of rotary wing aircraft. You can find helicopters in most aviation museums around the country, however, there are a few museums dedicated specifically to helicopters.
They typically feature collections of restored helicopters, interactive displays, artifacts, memorabilia, and educational materials that provide insight into the past and present development of helicopters. Many also include flight simulators that allow visitors to experience what it is like to pilot a helicopter. Helicopter museums also often provide entertainment in the form of demonstrations, lectures and discussion panels featuring experts in the field. They may even host special events such as fly-ins for historic aircraft collectors, educational programs for children, or movie nights showing films about the history of helicopters. Visitors can learn about different types of helicopters from around the world and gain a greater understanding of their intricate design features and technical capabilities. Additionally, these museums may offer hands-on activities such as building models or virtual reality experiences allowing guests to explore aircraft from every angle. For those who are interested in aviation history or engineering, helicopter museums can be an excellent educational opportunity as well as an enjoyable day out!
Seeing one of these exhibits not enough? Some of the best helicopter experiences can also be found at any one of the air shows around the country! Check out our air show directory to find an air show near you.
Table of Contents
Helicopter Museums Directory
United States Helicopter Museums
American Helicopter Museum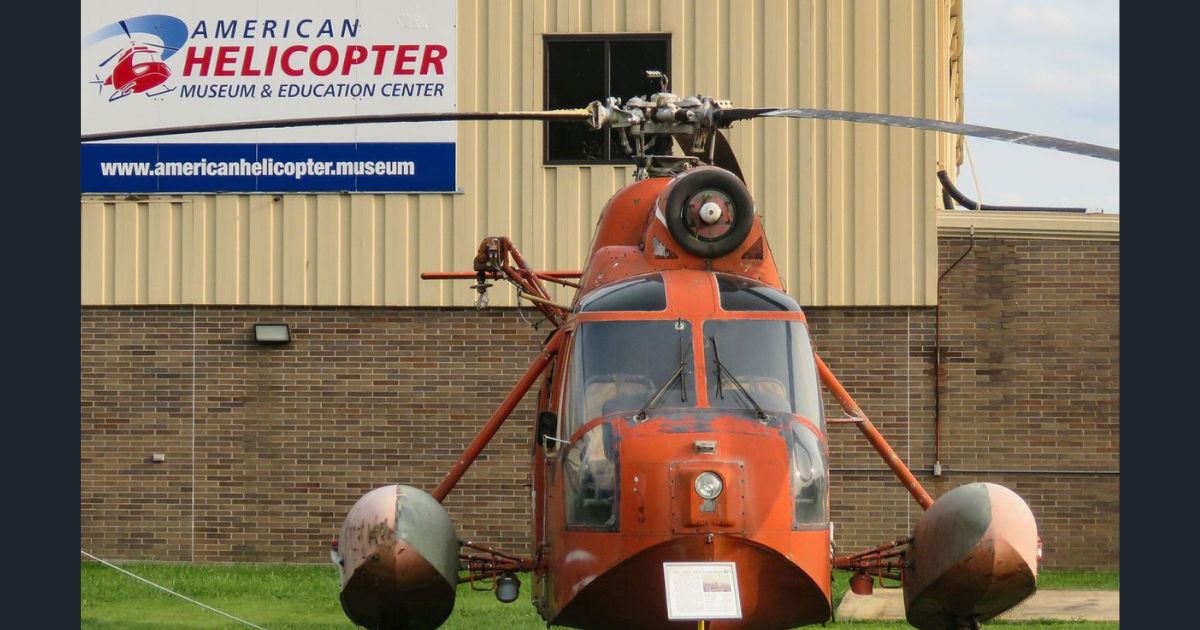 Come to the American Helicopters Museum in West Chester, Pennsylvania for a unique experience that will take you soaring through the history of helicopters. This museum offers visitors a unique opportunity to explore the fascinating history of aviators and aerial technology, from classic models to modern marvels, knowledgeable staff will be happy to take you on an informative tour and explain the many developments that have been made in helicopter design throughout the years. Come experience one of the very few aviation museums dedicated to helicopters.
An impressive array of helicopters from all eras are on display here, ranging from the earliest versions used to some of the most advanced machines ever built. The collection also includes several classic military helicopters, as well as historic choppers featured in Hollywood films. You also won't want to miss the interactive exhibits that feature hands-on activities like virtual flight simulation. You might want to check out their website too! You never know when you might catch one of their local air show days.
the American Helicopter Museum is perfect for families or educational field trips, giving people of all ages an exciting chance to learn about one of mankind's most amazing accomplishments. With a variety of permanent and temporary exhibitions running throughout the year, our guests are sure to find something interesting every time they visit! So come soar at the American Helicopter Museum.
National Helicopter Museum
Vietnam Helicopters Museum
The Vietnam Helicopters Museum in Concord, California is the perfect destination for travelers interested in aviation history. With a variety of military aircraft on display, including UH-1 Huey helicopters used during the Vietnam War, this museum offers more than just a visual experience. Visitors can learn about the brave pilots who operated these historic aircraft and their experiences during the war.
In addition to its impressive collection of Vietnam War–era helicopters, the museum also showcases an array of memorabilia from the era, such as wartime photographs and original uniforms. Plus, you can get up close and personal with some of the aircraft and artifacts on display.
This unique museum is located in one of California's most stunning areas — Concord. This vibrant city offers plenty of activities while you're visiting, from outdoor recreation at nearby Mt Diablo State Park to live music shows downtown. While you explore Concord's rich culture and heritage frontiers, be sure to stop by this incredible helicopter museum for an educational experience about America's involvement in one of its most important conflicts.
CLOSE MAP