---
TL-29 Knife Collectors Notes
By: Patrick Luther
Posted on May 01, 2021
---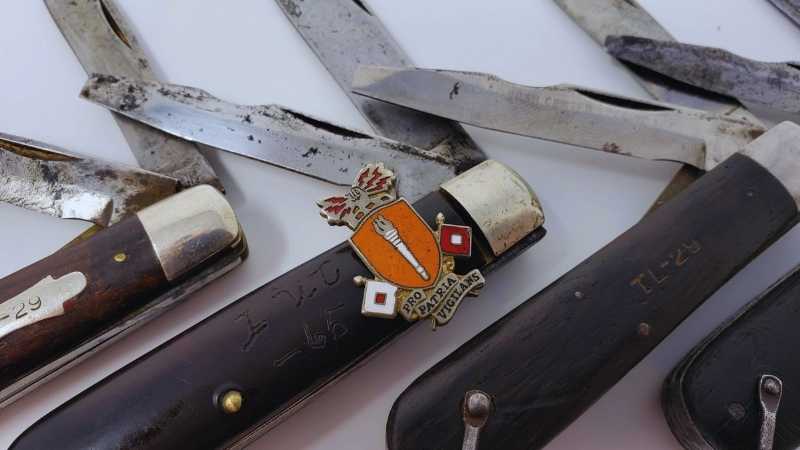 ---
The TL-29 folding pocket knife is one of the most ubiquitous knives of World War 2. Despite not having the household name recognition, like that of the Ka-Bar, the TL-29 is undoubtedly one of the most sought after and most popular knives of World War 2. Following WW2, surpluses of these knives found their way into the hands of many handyman toolboxes. To this day, one of the most popular features of the knife is its affordability. The TL-29 makes a great collectors item for the novice collector and can be found at almost any military collector show. Some collectors enjoy the simplicity of knives with few variations such as the Jet Pilots Survival Knives while other collectors will enjoy the almost endless variations in the TL-29.
TL-29 Knife History
The TL 29 is often thought of as a WW2 pocket knife but actually predates WW2. The TL-29 started life as the Signal Corps Knife and dates back to at least May of 1919 when the first Army specification was put together. The knife was undoubtedly manufactured prior to this. Early knives have elaborate escutcheons with markings indicating the Signal Corps as "SC USA", "US Signal Corps", etc.
These early knives are often just considered Signal Corps Knives. Signal Corps knives are typically8 marked on their escutcheons with either SC-USA or Signal Corps. Another key identifying feature of these knives is the presence of a half circle cutout on both sides of the screw driver blade. These knives are often at a premium and fetch a higher value than the more contemporary versions.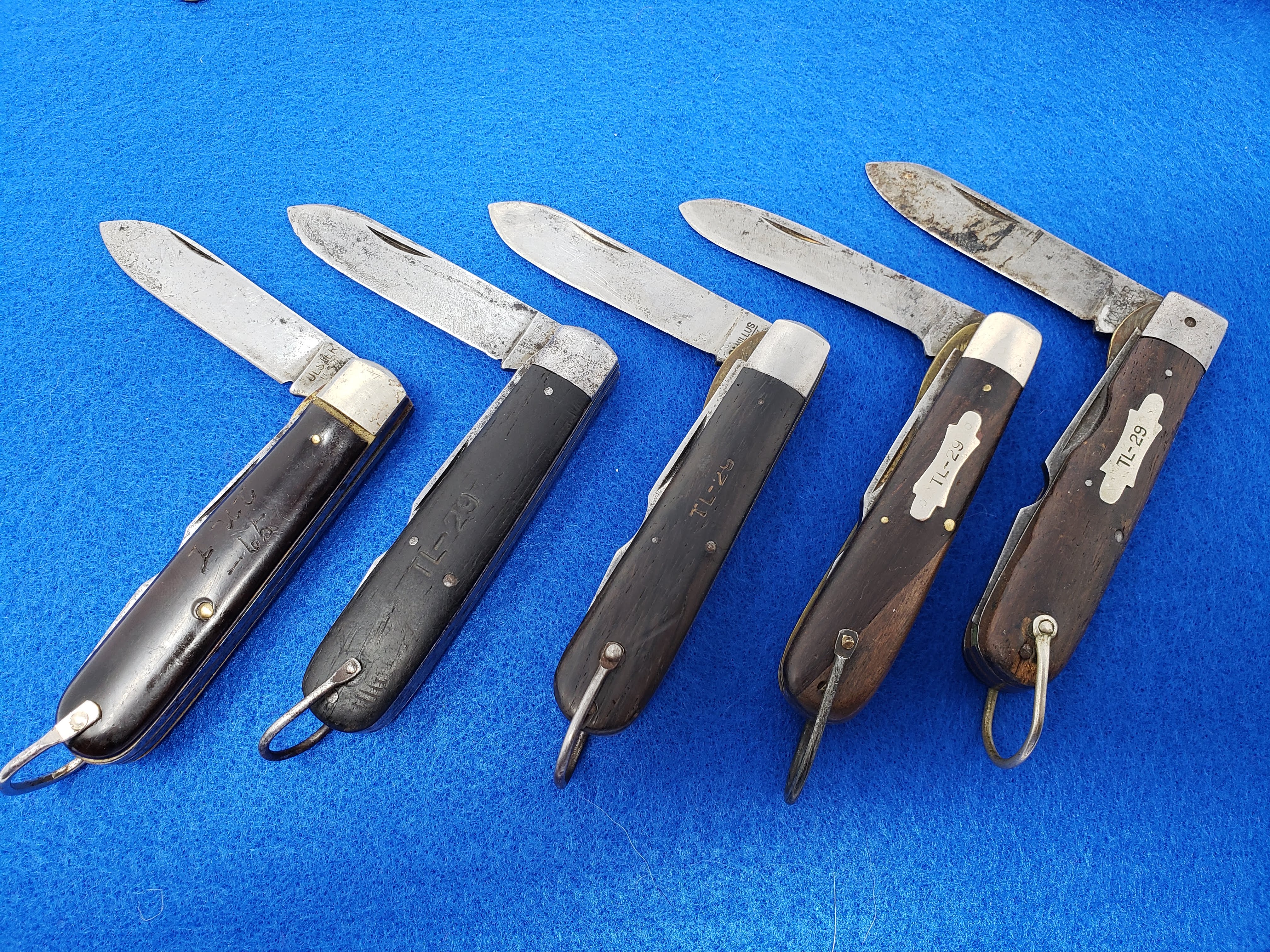 As the knife progressed through the 30's, through World War 2, and into the post war era, quality and craftsmanship began to decline. Post World War 2 knives are most frequently made with plastic materials and the more expensive brass bolsters and liners are often replaced with steel. This most likely began during World War 2 as brass was a much needed commodity for other water materials.
A common feature of World War 2 era knives is the simple stamping of "TL-29" into the wood handle. Some WW2 era knives have an escutcheon with the TL-29 on it. Post war handles were made of plastic materials. The early plastic knives are often warped and not shaped properly. Most modern Chinese made TL-29;s are of the black plastic handle variety.
Throughout its history, the TL-29 has gone by various names such as the electricians knife or signal corps knife. The proper nomenclature breaks down as "Tool for Linesman" and 29 indicating the tool as the knife. Other tools for the linesman carry a different number such as the pliers (TL-13) which are frequently paired with the knife. This pocket knife makes a great addition to other commonly found collectibles.
TL-29 Accessories and Other Items of Interest
TL-13A Pliers and Pouch
Pouch Type CS-34/Signal Corps US Army - a leather pouch which carries a spot for the TL-13 pliers and the TL 29 pocket knife.
Pouch Type CS-35 - During World War 2, the cost and difficulty of procuring leather lead to this fabric/mesh pouch.
Tool Equipment TE-5 - The TE-5 pouch consisted of the TL-29, 1 set of pliers, 1 pair of scissors, a ruler, tweezers, and a file. This particular item of interest is extremely difficult to find as a complete set.
TL-29 Manufacturers
There are so many manufacturers of this particular knife, it would be much easier putting together a list of companies which didn't manufacture it. Here are some of the most common varieties found, this is not an all inclusive list.
Cattaraugus
Kingston
Remington
Camillus
Colonial
Ulster
Ka-Bar
Kutmaster
CAMCO
Camillus
Ulster
Miller Brothers
Mathias Klein & Sons (M.Klein)
Resources
A good resource for both the seasoned collector and those just starting. Michael Silvey's collection provides many examples of U.S. pocket knives rarely seen before. A good resource for collection inspiration. This reference book offers very limited information on the TL-29 but does offer wonderful photos of rare examples.
Those familiar with Knife World Magazine will undoubtedly recognize the articles in this book. This is a collection of Frank Trzaska's articles over the years. Frank always writes very detailed and extremely researched articles. This reference book offers a nice timeline of the history of the TL-29 as well as a few example photos.
This book doesn't fall in the realm of "affordable" by any measure but is a worthwhile addition to the World War 2 reenactors library. The book doesn't go into detail on specific items but does give a great overview on how to kit out an impression for various roles such as an engineer, chemical warfare, signal corps, etc. Highly recommended book for the European theater reenactor.